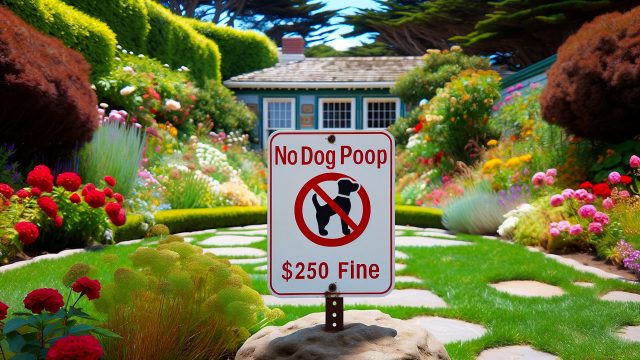 What's a $250 Dog Poop Trap?
No doubt you've heard of a "speed trap", but for irresponsible dog owners who refuse to pick up after their dogs, what about a "$250. poop trap"?
Sure everyone is more vigilant when they see the local enforcement authorities wandering about in their uniforms, but what if they were in plain clothes and just wandering about at the off-leash park or beach?
It's a $250. Fine
Perhaps you're not aware that not picking up after your dog is a substantial $250. fine – that's more than not having a current dog tag on your fur friend's collar.
What's worse is that dog poop is highly toxic and when you don't pick up, this toxin finds it's way into our water supplies, and into our homes.
Why might it be a good idea for control officers to blend into society so that they can catch irresponsible owners?
Nobody wants to step in doggy do, and they sure don't want to smell it when they're taking a few hours to enjoy the sun and sea at the beach.
None of us conscientious dog owners want to keep on taking the rap for those who think it's OK to operate outside of the rules of common decency.
I'm sure that all conscientious dog owners have many times seen a big pile of dog poo left on the side of the road in your neighbourhood, or at your local park, and I'm sure that being the conscientious dog owner that you are, you've picked up many loads that didn't come out of your dog, while silently cursing the irresponsible dog owners who makes all the rest look bad.
Pick It Up – It's the Law
Because there are so many more dogs in homes these days than ever before, this means that sadly there are many more piles of poop not being picked up.
Every time a dog owner does not pick up after their dog, this inaction creates a health hazard and puts all other dog owners in a bad light which broadens the wedge between those who love dogs and those who would rather see them banned from all public places.
As an example, just yesterday when we were pack-waking with our clients as we do every Saturday, the weather was gorgeous and we decided to return to the beach. There were lots of dogs and humans enjoying the sunshine and ignoring their off-leash dogs.
Within a space of just five minutes we saw two dog owners NOT pick up after their dogs.
One young woman actually dug a hole in the beach and buried her dog's poop under an inch or two of small rocks and when one of our group called her on it, her excuse was that it was better than filling landfills with plastic.
When I replied that most doggy do-do bags are biodegradable, she became belligerent and said, "you look after your dog and I'll look after mine."
A minute farther down the beach and we witnessed another dog squeezing out a fresh pile of poop while the two young guys who seemed to be associated were already too far down the beach to ever notice.
We live very near a beautiful little park where we often walk our dog, and inevitably we are picking up after a dog and owner that has long since left the vicinity.
In fact, we seem to pick up far more dog poop from other dogs than from our own.
The Power of Peer Pressure
So what's the solution to solving this problem before dogs are banned from all public areas?
Conscientious dog owners need to voice their opinions loudly whenever they see someone not picking up, as sometimes it's a legitimate mistake, but for those who are purposefully not picking up, perhaps a little peer pressure or embarrassment might do the trick.
Of course, it might have the opposite effect and you will get a hail of four-letter words back at you.
No matter if this happens, as the person is really swearing at themselves because they know they are wrong and perhaps unbeknownst to you, they will change their errant ways somewhere down the road.
I say, why not set up poop traps and start making some serious money for the city?
If every time a plain clothes enforcement officer catches someone not picking up they fine the individual $250. wouldn't you think that this considerable hit to the wallet would have a positive effect on teaching the irresponsible that the rules also apply to them?
If you have a good idea about how to get those dog owners to be more responsible, put it in play, and help all conscientious dog owners make our community a safer, cleaner and all round better place for everyone.
– Asia – Dog Whispering for 40+ years
© K-9SuperHeroesDogWhispering.com [Since 2008]