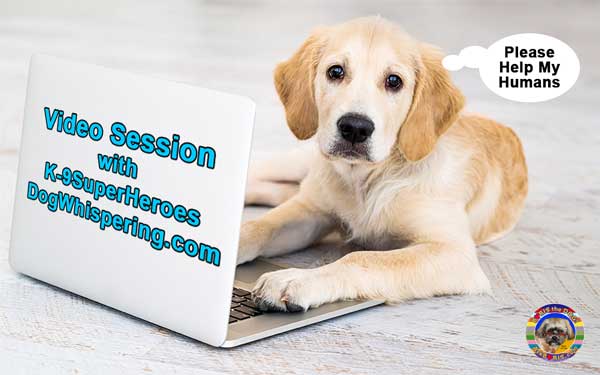 1 or 2 Hour Online VIDEO Dog Whispering Sessions Now Available
We offer effective techniques, answer your questions, and provide solutions that will help to train, alleviate or prevent behavioral issues via online video sessions no matter where you are in the world.
In-Home Dog Whispering Session
"With the proper training, Man can be dog's best friend."
Please Take a Moment to Watch Our Short Video…

Call Today at 250-881-7795
We believe that all dogs and humans can live together in joyous harmony.
Working with dog guardians for countless years, we have discovered that many behavioral problems are occurring in our society today as a result of changing roles for both humans and dogs.
For instance, we humans once enjoyed very harmonious working relationships with our canine counterparts because they had a job to do, and were part of how we lived and prospered.
In today's more modern society, many dogs are now chosen to share their lives with humans strictly in a companionship role and this has often created a misunderstanding between dogs and humans.
As well, because our society is turning toward dogs to occupy roles once fulfilled by human children and other adults, with society choosing pets 4 to 1 over having children, and expecting our dogs to take on the responsibilities of fur-covered, small people, this is having a detrimental effect, on both humans and dogs alike.
As a result, our dogs are becoming neurotic, unbalanced, unhappy and stressed because they no longer have a well-defined role to play in our lives, and no longer receive the leadership they need in order to be happy and well-balanced family members.
We need to keep in mind that, despite how society has changed and how humans view their changing relationships with dogs, the fact remains that the one thing our dogs are the very best at doing, is being dogs.
With over 40 years experience observing dogs and other animals in the wild, the K-9 Super Heroes Dog Whispering team has developed an effective teaching method that helps bridge the gap between canine and human, through the teaching of dog psychology, so that behavioral problems are no longer an issue.
We have developed a personalized, one on one strategy customized to provide solutions that meet or exceed the needs of every unique human/canine relationship that may be experiencing any manner of behavioral problems.

There is rarely an occasion more joyous than that of bringing home a new puppy or adopted or rescued dog as this sets you off on a journey that will enhance your life, bring you joy and contentment, companionship, unconditional love, endless laughter, and the many health benefits associated with walking your neighborhood meeting and greeting new friends.
However, as you can understand, even with the very best of intentions, sometimes our relationships can take unexpected twists and turns that leave us questioning the efficacy of our decisions.
If you've found yourself experiencing a less than joyous relationship with your fur friend and are starting to wonder if enrolling yourself in a short course in dog psychology might be exactly what you need to get yourself and your dog back on track, we're here to help you learn how to embrace the relationship you truly yearn for with your canine companion(s).
We are consummate problem solvers, who find solutions for unsettling situations humans may be experiencing with their canine counterparts.
Dogs make humans feel special — Asia Moore
We love what we do and passionately believe that we are blessed with the most rewarding career. What could be better than bringing positive transformation to lives so that humans and dogs can peacefully and happily co-exist?
We, humans, live dynamic, ever-changing lives, which means that sometimes we can be unaware that our dogs are despondent, with the result being that many exceptional dogs live a life of quiet (or not so quiet) desperation.
If you're experiencing behavior problems with your dog, it's not because they are misbehaving, rather, it's because they're "telling" you that their life is out of balance.
The GOOD NEWS is that dogs live in the present, which means that no matter what challenges you and your dog have been living with in the past, you certainly can live a happy, peaceful life with your canine companion(s) in the future.
The husband and wife team of Asia, Jim and fur friend, Boris will show you simple ways to eliminate any unwanted behaviors by taking you beyond training and teaching you what your dog truly needs.
When you spend a little time with us now, you'll enjoy the benefits of being our client for a lifetime.
We want to help those who want only the best for their dog(s) and their family and we want to show you that your dog is not misbehaving, but rather that he or she is just misunderstood.

Call Today at 250-881-7795
"He is your friend, your partner,
your defender, your dog.
You are his life, his love, his leader.
He will be yours, faithful and true,
to the last beat of his heart.
You owe it to him to be worthy of such devotion."
— Unknown
Our more than 40 years of experience can teach you how to bring harmony to your dog/canine relationship, by showing you ways to effectively resolve your differences. Please take a few moments to become acquainted with our website, read our reference letters and testimonials, check out our photo gallery and get a feel for how we can assist you and your dog.
Our dogs selflessly bring the gifts of their unique and very special qualities to enhance our lives and we owe it to them to learn what THEY need to be well balanced, happy members of our family.
"We give dogs time we can spare,
space we can spare and love we can spare.
In return, dogs give us their all.
It's the best deal man has ever made."
— Margery Facklam, Award-Winning Children's Science Author
In order to really understand our canine friends, it means that we humans need to make the effort to learn how best to communicate with them so that we are able to provide our dogs with what they truly need to be contented and happy members of our human family.
We always believe that with the proper training, a man or woman can be a dog's best friend.
Book Your Dog Whispering Session Today
Take advantage of our more than 40 years experience with dogs of every size, temperament and unique personality, because we're confident that we have what it takes to help you and your dog(s) learn how to live that perfectly happy, stress-free life together!
Spend a little time with us now, and enjoy the benefits of being our client for a lifetime.
Call us today at 250-881-7795 or 778-678-DOGS (Cell) or scroll down the page and book your Dog Whispering session online right now, because we know that with the proper training, we can all learn to be dog's best friend.
Our Rates: (Book Online Form Below)
$100 — 1-Hour Online VIDEO Session
» Learn basic commands, hand signals, and first tricks.
$300 — 2-Hour Online VIDEO Session
» Learn basic dog whispering techniques that will help to prevent or alleviate behavioral problems so that you can live a stress-free life with your chosen canine companion. This 2-hr session includes a written report so you don't need to worry about remembering all the many things we will be discussing.
$750 — Private In-Home, Dog Whispering Sessions, Victoria, BC Area *
Take advantage of our private, in-home, one-on-one dog whispering sessions so that you can learn how to bring harmony to your home and neighborhood.
» [$50. extra per additional dog]
» First Session: 3-4 hrs (on average)
» Second Session: 1-2 hrs
» Extra Sessions: $75/hr
» Ask About $100 Senior's Discount!
Includes:
» Interview and hands-on training
» Specially tailored homework
» Written report with photographs
» Two-week follow-up visit
» Endless Phone and E-mail support
» Help with difficult Vet visits
» Access to other Exclusive Local Services
» Specialized keepsake at your follow-up visit
Fill out the form below, or call us today.
* Victoria/Vancouver Island: Travel fees at $15/hr or portion thereof outside Greater Victoria.
** Vancouver/Mainland, Other: Travel fees at $15/hr or portion thereof, plus any accommodation/flight or ferry fees. We stay with you for two days so no need to return for a two-week follow-up.
Book Your Dog Whispering Session Below
Once you have filled out our "Book Online" form below, and we have received your contact information, we will get back to you by e-mail or telephone later the same day, or at a time you have specified, to discuss your situation and confirm a date for your first session.
When we have confirmed a date for your first appointment, we will then send you an e-mail outlining what your first session will involve.
* Note: ALL Fields are Required. Book Your Dog Whispering Session
* Note: If the captcha code does not display correctly simply enter all the information in all the fields and click the Send Your Information button and a new code will be displayed, enter the new code and click the Send Your Information button again. If you have any questions please use the Contact Us form.