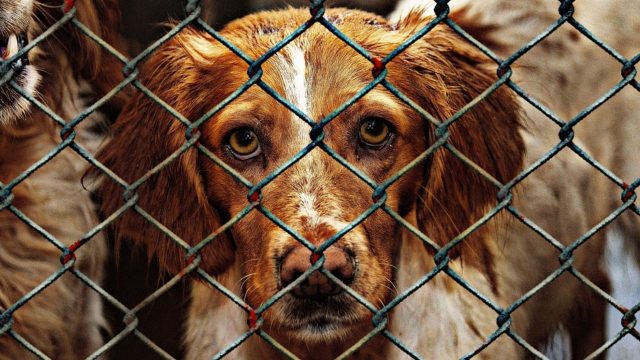 I was recently chatting with a local dog walker/sitter who told me the most shocking statistic about her business is that "…90% of the dogs I work with are rescued dogs with serious issues…many are aggressive…"
Curious, I asked why she didn't suggest to the owners that they engage a professional for a dog whispering session so that they could learn through dog psychology all about how they can help their dogs regain balance and become the happy companions they were meant to be.
She replied, "I have suggested it to many, offered to take them myself but if they say no, that's where it stops."
Rescued Dogs Need to Regain Balance
Then I have to ask the question, "From the dog's point of view, what's the difference between living in a rescue facility or living in a home with a human who is just providing a different "kennel" when the human is not willing to address previous behavior issues?"
Rescuing a dog can present itself like a two-sided coin where one side or the other often lies hidden. Oftentimes the hidden side requires the assistance of a professional that can teach humans how to understand the dog.
On the one side, the human feels good about providing a dog with a new home because this act of compassion imbues the human with improved self-worth, and a sense of righteousness from doing a good deed for a creature less fortunate. Indeed wonderful human characteristics, but does this help the dog regain balance?
Are the Dog's Needs Really Being Met?
However, the other side of this coin, and the one that is often forgotten or not immediately recognized or acknowledged by the human, is whether rescuing the dog was more for addressing human needs because if the rescued dog's needs are not also being met, which includes being aware of and eliminating previous unstable behavior concerns so that the dog can become a stable, happy member of its new human pack, the "rescue" can be very one-sided.
Oftentimes a human will rescue a dog from the SPCA or local facility because they feel sorry for it being "locked up" and facing possible euthanasia or because of breed-specific persecution or because it looked dejected and sad or because it was frightened, or perhaps it reminded the person of a childhood pet, or the human was feeling lonely or sad…or any number of other human emotions.
What Are Good Reasons?
Although all of these above reasons are what makes us caring humans, none of these are good reasons for rescuing a dog. Good reasons would be because the human is willing to really provide for all aspects of their new 4-legged companions' needs, which are dependent upon firstly addressing any behavioral issues that are already present or may arise in their future.
Dogs live much more in the moment than we humans, and once the humans understand what their particular dog requires in order to get back in balance, they will both be on the road to recovery and a loving, fulfilling relationship.
Unfortunately, what awaits many rescued dogs in their new home can be even more heartbreaking when the human, although kind and well-meaning, is not capable (because of personal circumstances, work commitments, health, lifestyle, age, etc.), of giving the dog what it really needs to be happy and so, the newly "rescued" dog ends up being further frustrated and unfulfilled.
Is a dog really rescued when the only thing that's changed for them is the size, shape or colour of their four walls?
A Kennel is a Kennel
A kennel is a kennel is a kennel in any dog's mind. They don't care how large or beautiful your home may be, because, in their mind, it's still their kennel when they're left in it without you being there to provide the companionship and direction they need.
When you're gone, they're still locked up, they're still left alone, they're still frustrated, they're still frightened, fearful, nervous, anxious, or aggressive because they still aren't having their needs fulfilled which means they're still unbalanced and unhappy.
To really rescue and rehabilitate a dog takes time, never-ending patience, and unwavering commitment. Yes, it can be hard work because it demands firstly, an understanding of what's required in a particular dog's circumstances, and a skill set and understanding of dog psychology that most humans can learn, but don't naturally come by.
Taking the time and effort to learn what your dog needs to be a well-balanced member of your family is priceless because a happy relationship with your dog reaps untold positive rewards that many of us don't even realize and that simply can never be measured.
The very definition of the word "rescue" tells us that to rescue means "to bring (someone or something) out of danger – to deliver or save."
Understanding What's Required
Therefore, when a human rescues a dog but doesn't follow up with learning how to bring the dog back into balance and harmony with itself and its surroundings, they have not brought this dog out of danger or saved it from anything other than possible euthanasia.
It's a very sad situation indeed when canine guardians (humans) are not willing to make the effort to learn what they need to do so that these rescued dogs can become well-balanced and happy companions.
Are rescue facilities doing these dogs any favours if they are not following up and/or recommending professional help as a matter of course for humans who don't yet understand what dogs really need in order to be happy and well-balanced members of their new human pack?
Do You Really Have the Time?
Unfortunately, many humans throughout their busy days just don't have the time necessary or inclination required to invest in the consistent effort necessary to do what's right for the dog and believe that a bowl of food with access to a yard will fulfill all of their dog's needs. Our dogs require and deserve so much more from us humans.
Many a rescued dog doesn't get their needs met, or their problems addressed, and as they pass from owner to owner, become even more unbalanced because the humans they happened to come into contact with, although well-meaning, didn't understand what they needed to do to really help them.
Sadly, many rescued dogs, even after finding a new forever home, are still left to fend for themselves as best they can within an alien, human society that doesn't truly understand what they need to be happy.
When these dogs are "rescued", will their humans be doing all they can to ensure that the dog's needs are being met, or will these dogs simply have to endure a life of instability?
Dear Dog – My wish for you is that you are, in every sense of the word, truly a rescued dog.
– Asia, Dog Whispering for 40+ years
© K-9SuperHeroesDogWhispering.com Since 2008