Professional In-Home Pet Sitter
Are you going away on a holiday or business trip and need reliable folks to look after your furry companions, and your home, in the greater Victoria area including James Bay, Oak Bay, Fairfield, Cordova Bay and the Saanich peninsula?
We offer executive service with a difference, for both you and your beloved pets, and service the Greater Victoria and Saanich Peninsula areas.
Contact us right away because we book up fast! 250-881-7795 (leave a message as we are often out walking dogs).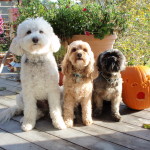 What happens when we come to your house to look after your fur friends?
First we provide you with an information sheet so we know all your contact details, who your veterinarian is and any special care instructions required for your dog(s) or other pets.
Then we arrange to meet you and go over anything we need to know about looking after your home and companions.
We will be taking your dog(s) out for a minimum of two walks every day, and feeding and caring for them as if they are OUR best friends, too!
If they need medications or grooming, we can do that, too (full grooming, including bathing and clipping, plus "pawdicure" is $50 or $60 per dog, depending on size).
The "executive" difference: we will drive you to the airport (usually in your vehicle) and be there to pick you up when you return AND ensure that your dog or cat is happy while you are away, as well as checking the mail and looking after your home and garden so that everything is just as you left it (or better) when you return.
What could be better than having professional, caring and reliable humans with 40 years experience look after your best friends while you're away? Please take a moment to check our references to hear what our clients think about our service.
We know how you can worry when you have to leave your beloved furry friends at home and your dog(s) and/or cat(s) have to be displaced and suffer the stress of being sent to a kennel where they will be miserable.
Worry no more when you hire us, because your beloved companions will get to stay in their familiar home, sleep in their usual bed and be walked by professionals in their usual neighborhood.
Contact us today and take advantage of our "executive" pet sitting service.
Please leave a message at 250-881-7798 and Asia or Jim will get back to you as soon as they get in. If you prefer, you can call Asia's cell at 778-678-3647, or use the convenient contact us form below — and please book early to avoid disappointment.
Our fees: $60 per day, plus $5. for each additional dog or cat. Birds, rabbits, fish and other small creatures are free.
Wishing you a FURtastic day!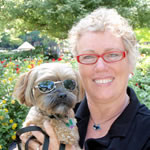 Asia, Jim & Boris the dog
K-9 Super Heroes Dog Whispering.com
Knows To Nose.com (human/canine matchmaking)
Must Have Publishing.com (over 350 breed books)