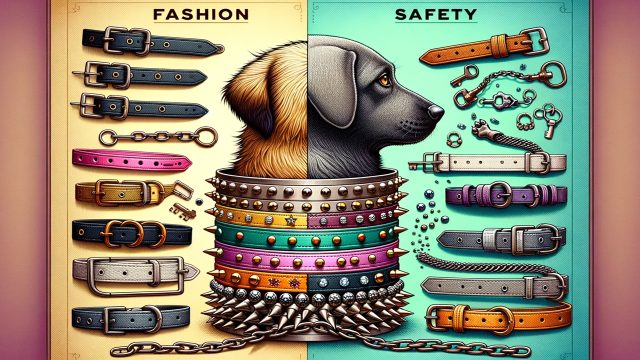 Let's face it, we humans are generally quite fashion conscious, and like to be well turned out and up to date with the latest, and because of this many of us also like our dog's to be sporting the latest canine fashions when it comes to choosing a dog collar.
While our dogs really don't give a fig about what colour their collar or coat may be, or whether it's made out of the latest high tech fabric, sometimes us humans are guilty of sacrificing safety for the sake of fashion when it comes to choosing the right dog collar for their fur friend.
Many collars in the canine marketplace today can actually end up being dangerous and even lead to a situation that can put your best friend's life in jeopardy.
Fashion Can Be Dangerous
Notably, the most dangerous dog collars are also the most prevalent. These are considered "flat collars".
Flat dog collars come in many fancy materials, colours and styles, with all manner of decoration, including studs, spikes and rhinestones, which makes them highly desired by the fashion conscious humans who may be solely interested in the pattern and colour and whether the desired dog collar has the right look to convey the fashion message that speaks to us humans.
If the lure of the latest fashion is foremost in your mind when purchasing a collar for your dog, you may not be considering whether or not the dog collar you are about to purchase is actually safe for your beloved companion, and that attached to that collar will be a leash that is attached to a human who is ultimately responsible for the safety of their fur friend.
All flat collars, no matter how beautiful, expensive or fashionable, pose a problem for any dog owner who is concerned about the safety of their best friend simply because given the right incentive, most any dog can quite easily pull itself out of a flat collar and run across the street into oncoming traffic.
A dog can be afraid or startled or really want to get to another dog or desperate to chase a cheeky squirrel or taunting cat and can flip their heads around and back right out of a simple flat collar and off they go.
What IS a Flat Dog Collar?
Quite simply a flat collar is a dog collar that can be constructed from any sort or combination of material, and is attached around the dog's neck with a buckle or a snap closure.
A flat dog collar usually fits loosely on the dog's neck so that it's comfortable for daily wearing. 
Most all flat collars have a ring for attaching a leash and/or license and name tags. They look like this:
The Martingale Collar
What kind of collar should you look for if you want your dog to always be safe and comfortable?
We always recommend a Martingale collar for all our clients because this collar is functional, and can be fashionable, too, however, by far the best attribute of the Martingale collar is that you will have peace of mind because you'll never have to worry about your dog ever backing out of it and running into a dangerous situation.
The Martingale dog collar looks very similar to a flat dog collar, with one very distinctive difference being a piece of material or triangle of chain in the middle of the collar.
This dog collar needs to fit over the widest part of the dog's head and then adjusted so that the two outer rings on the chain never come completely together when you attach your leash and pull on the outer ring.
When properly fitting a Martingale dog collar, make sure that you leave at least a thumb or a two finger width between these two inside rings when you pull on the leash as it's attached to the outside ring.
We prefer the Martingale collar with the piece of chain in the middle because the sound of the chain gives valuable cues to your dog when you need him or her to pay attention.
When you want safety for your best friend, peace of mind for yourself, and functional fashion, the Martingale dog collar is the collar for you.
– Asia – Dog Whispering for 40+ years
© K-9SuperHeroesDogWhispering.com [Since 2008]