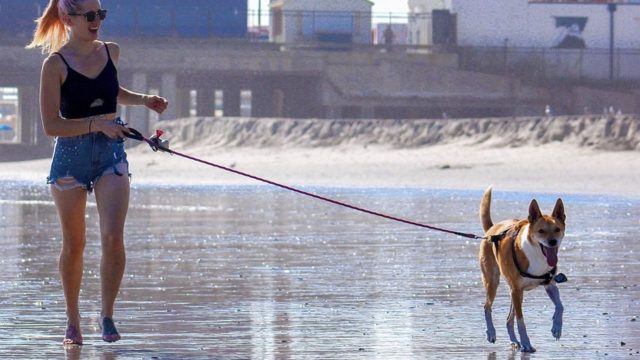 Do you enjoy walking your dog, or does this picture remind you of how taking your dog out for a walk has literally become a painful drag because your dog is pulling your arm out of its socket?
Don't worry, because the above picture is more common than you might imagine as easily 90% or more of all dogs (from Chihuahuas to Great Danes) are not enjoying their walk, either, and many humans with larger breeds avoid the activity altogether because it's just too embarrassing or too painful.
Walking the dog sounds simple enough – everyone knows how to do that, or do they really?
Most humans think that they just put a collar on the dog, snap on a leash, and away they go for a wonderfully relaxing walk, when in fact, many humans and their dogs are suffering every time they go out the door.
Unfortunately, whether you're walking a small dog, or a large dog, or walking many different dogs at a boarding kennel, pet care service, or your local SPCA, not mastering the walk is painful, and it can and does lead to many other behavioral issues that can endanger you, those around you and the life of your canine companion.
Why is Walking Your Dog So Important?
It's important that you are walking your dog correctly because this is the time when you will have an opportunity to bond and help your dog to realize that you are the leader and they are the follower.
An uncomfortable, unproductive and/or out-of-control walk with your best friend very often leads down the sad and lonely road to the local shelter because the human element can't handle it anymore and feels forced into making the difficult decision to put their canine companion up for adoption.
Mastering the walk with your dog is the number one, most important primal activity that you will do with your canine friend, therefore getting it right is paramount.
Mastering the walk helps to create that all-important respect, build on trust and fulfill your dog's needs in such a way as to create a deep, lasting bond, easy communication, and a happy, relaxed relationship between you and your best friend where there's never any question about who is the boss.
Dog Out Front Creates Many Problems
When you allow your dog to take the lead, you are "telling" him or her that they are the leader, instead of you. This can be very confusing for your dog, especially if you expect them to listen to you at other times and in other circumstances.
When the dog is out front you are putting a great deal of stress onto the shoulders of your fur friend, which means that you are ultimately helping to shorten their lives, because stress doesn't just shorten human lives.
When you are not walking your dog, and instead permit your dog to walk you, you are putting your dog in the position of having to make humans decisions about what to do whenever you meet another dog or person, or encounter unknown circumstances, which means that you're asking them to do your job for you.
As smart as your dog probably is and as much as they really want to please you, asking them to think, act and respond as a human is simply unrealistic.
If your dog is taking the lead by walking in front of you when you go out for your walk, and straining and pulling you on the leash, you both can benefit greatly from a little dog psychology so that you can learn what you need to do to correct this situation and instead work toward creating that special bond that all dog lovers seek to have with their best friend.
You Can Easily Fix The Problem
The good news is that even if your dog has been taking the lead and walking you for years, after just a few minutes of learning dog whispering techniques, you will soon understand how to easily become the master at walking your dog and Fido or Fifi will love you all the more for it.
A dog is not just for Christmas – a dog is for a lifetime. Walking your dog is the most important time you will spend with your fur friend, so why not make the all-too-short lifetime you have with your canine companion a pleasant, loving experience for both of you?
Call K-9 Super Heroes Dog Whispering today and we'll help you learn, among other things, how to walk your dog properly, because if you're not being the pack leader in all circumstances, you're sending confusing messages to your dog, who then has to figure out when the leadership role has defaulted to them.
Never forget that if you force your dog into the role of leadership and they make the wrong choice, it's not their fault because they're a dog with limited brain power and zero reasoning skills, therefore, it's you who will literally pay the price of your dog having made an incorrect decision about how to deal with what may be coming along down the road.
Walking your dog should be a pleasurable experience, so keep yourself and your dog safe at all times by learning how to keep them walking comfortably at your side so that you can both look forward to your daily walks together.
– Asia – Dog Whispering for 40+ years
© K-9SuperHeroesDogWhispering.com [Since 2008]