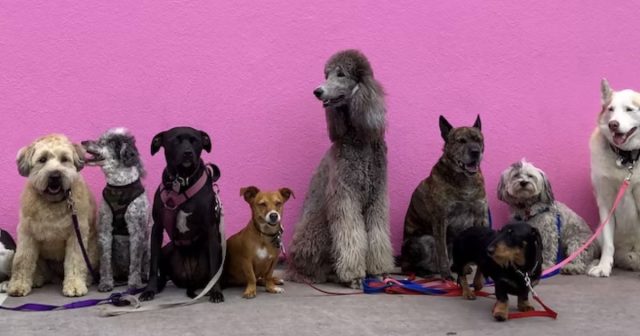 Get ready to learn how, from a canine's perspective, dog socialization and training can make all the difference in creating a happy and well-behaved furry companion.
Dog Socialization
SOCIALIZATION is crucial in helping your dog develop positive behavior towards humans and other animals.
Through proper socialization, your dog can learn to interact appropriately with its surroundings, and everyone in it, making the dog feel relaxed and confident and less prone to fear and anxiety, which can lead to aggressive behavior.
As soon as a young puppy comes home with their new family, they need to begin socializing.
This can be achieved by exposing your dog to different environments, sights, sounds, and situations, including different people, animals, and places, in a controlled and positive manner.
If you wait until a dog is older, before they are introduced to all the normal day-to-day activities in our human world, chances are high that you are going to have to deal with a dog that has behavioral issues.
Get out there and take that puppy everywhere you can think of before they get older and may become nervous or fearful rather than calmly following your lead in every situation.
They need you to teach them that the horse-drawn carriage, the ducks at the petting zoo, or the airplane landing at the airport is all part of a normal day.
Here are Five Quick Dog Socialization Tips to Remember:
Start socializing your puppy early by exposing them to different environments, people, animals, and situations in a controlled and positive manner.
Gradually introduce your dog to new experiences and stimuli to build their confidence and reduce fear or anxiety.
Encourage positive interactions with humans and other animals to foster good behavior and appropriate social skills.
Provide regular opportunities for your dog to meet and interact with a variety of dogs to promote socialization and prevent behavioral issues.
Use positive reinforcement and rewards to reinforce desired behavior during socialization, making the learning process enjoyable for your dog.
Dog Training
TRAINING is another essential aspect of responsible dog ownership that will definitely improve canine behavior and strengthen the bond of trust and respect between you and your furry friend.
By consistently rewarding positive behavior and addressing negative behavior, you can easily teach your dog the three most important basic obedience commands (Come, Sit, Stay) because once learned, these commands will keep them safe in almost every situation.
Then it's up to you how many more commands or fun tricks you might like to teach.
Training can also help your dog develop impulse control, which is essential in preventing destructive or unexpected and sudden aggressive behavior.
It is essential to remember that training should be a positive and rewarding experience for your dog, that always avoids harsh punishments.
Dogs love to learn and when you use positive reinforcement techniques, the learning will be fun for everyone.
By investing the much-needed time and effort into proper socialization and training, you can ensure that your dog becomes a well-behaved companion that will live a stress-free life as a happy member of their human family.
In conclusion, socialization and training are crucial in fostering positive behavior in dogs.
By exposing your dog to different environments and situations and consistently rewarding positive behavior, you can help your furry friend develop the necessary socialization skills they need to interact appropriately with their surroundings.
Training, on the other hand, is essential for strengthening the bond of trust and respect between you and your dog.
However, dog socialization and training are not the only crucial aspects of responsible canine ownership.
The next blog post will discuss the role of exercise in creating a happy and healthy dog.
If you missed our first "Unraveling Mysterious Canine Behavior: Don't Blame the Dog – Part #1" article click on the link below. Enjoy!
– Asia
Dog Whispering for 40+ years
© K-9SuperHeroesDogWhispering.com Since 2008