Client Testimonials and Reference Letters
"Dogs are our link to paradise.
They don't know evil or jealousy or discontent.
To sit with a dog on a hillside on a glorious afternoon
is to be back in Eden, where doing nothing
was not boring, it was peace."
— Milan Kunder
TESTIMONIALS: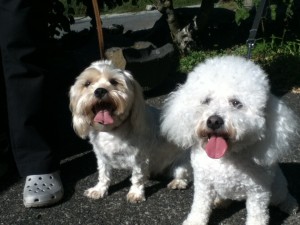 Mitzi & Bijou
"Our shi tzu (Mitzi) barked at everything, to the point that we avoided other dogs and people when she was with us.

However, she was our "child" – slept in our bed; sat on our furniture; led us around by our nose on walks; jumped up on and sat on our guests; and other than her barking, she could do no wrong.

Asia and Jim smiled knowingly as they observed how "sweet" we were with our "girls"!

Well, they've had us whipped into shape so fast, none of us have known what happened! and I keep wondering what all that quiet is about!

We're all far from perfect, but the changes are huge so far; and really, we've only just begun.

This after going to two other trainers with no noticeable results and me having some serious doubts that Mitzi's behaviour could ever be changed. Little did I know, how much of it was generated by us!

So, we heartily recommend and thank Asia and Jim and their dog whispering wisdom."

– Gill & Chuck in Cadboro Bay –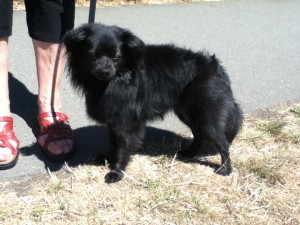 L.o.l.a. Lola…
"Hi Jim and Asia, I just wanted to let you know how happy I was with the training session today.

I took Lola down to the storage room tonight to get her crate and bumped into a neighbour who said "why isn't your dog barking?" I said we'd had a training session and she was shocked that after one session she wasn't barking.

Then we went for a short walk up the street and walked past two large basset hounds with no reaction. Then past a large dog who was pulling on its leash to get at her. She had a bit of a whine but one pull on the leash and she stopped. She did start barking when I was trying to get my jacket on so that was a bit of an issue. Deep breaths and she was back to calm again.

Thank you for all your advice. Should have called you a long time ago."

– Angela in Victoria –
Lovely Luna
"It was incredible learning true dog psychology and how to be more assertive. I love their loyalty to their clients and always being there for you when you need their help.

Asia and Jim are AMAZING at what they do. They TRULY know their stuff! I am sooo grateful to have met them both. They have given me the tools and knowledge to help me have a K-9 superhero.

It's nice to know that I can call or email if I have a issue or a question and know that they are more than willing to be there for me and beyond. I have already seen MANY positive changes in Luna.

I also want to mention the WONDERFUL report that they made for me explaining everything I need to do in detail and so much more helpful information. The time they take to help their clients and help the dogs is absolutely wonderful.

I have never heard of other trainers going above and beyond like this for their clients. Thank you so much, Asia and Jim. You both are AMAZING!"

– Sandra & Scott in Victoria –
Kelly from the Kootenays
I had never actually had to train a dog before. My first dog joined our family at 3 months old and he just seemed to pick up what I asked of him without any fuss and that continued through his life time. Imagine then what happened when we adopted a dog that was 18 months old and had never been trained or probably even lived in a house.

Kelly is a lovely dog, most likely short haired border collie or some mix of canine heavy on the border collie. I didn't want a dog for keeps but was fostering her for the summer or until I could find her a home. I didn't count on my husband falling in love with the dog (after I had so diligently protected my heart) and so after having her for the summer and searching for an appropriate and loving home I caved and told him we could keep her.

I did in fact have some thought behind the move. Over the summer months Kelly proved to be very calm and quiet. She was good with children and babies and played well with other dogs, big or small. There were no accidents in the cottage and she didn't seem to have any bad habits.

That isn't to say that she was perfect. She was very afraid of men in general, especially tall men with deep voices. And it was very obvious that she had been beaten in the past. She would drop and pee if any man approached. My husband spent the whole summer proving his worth. She had also been starved and the SPCA had done a good job of getting her up to an acceptable weight. She was petrified of the vet and wouldn't let anyone near to do examinations or touch her paws or face. She would squirm and use her mouth to remove probing hands which led to her being muzzled for the smallest of exams.

Did I say she was calm and house trained? Ha! That was in the hot summer months in the Kootenays. Unfortunately there were two things that came into play in that regard. Kelly came to us still recovering from starvation and so was still conserving energy in between walks. Also it was very hot and we now know that Kelly just doesn't move in the heat. However, once she was completely healthy and the summer heat gone Kelly became the dog that she really is. That is a very energetic happy dog that needed a LOT of exercise and a lot f training. Neither of which I seemed able to provide. Also we have a large house here in Victoria as opposed to the one room cabin that we use in the summer. Kelly decided that everywhere outside the family room and my bedroom where she slept was fair game to pee. I spent over $1000 in rug cleaning.

Desperate at home and basically banned from the vet until she was under control Kelly was definitely not fitting in with my life. She was kept for my husband but in reality he is never home and everything about the dog fell to me. And I was failing. Secretly I wanted to give her away to someone who would be good enough for her and be able to provide the home and lifestyle she needed to be a happy and healthy dog.

Enter K-9 Superheroes. As a last ditch effort to fix the dysfunctional relationship between me and Kelly we called on Asia, Jim and Boris whom we heard about from the vet. They came to our home for 4 hours and in that time literally changed my life and Kelly's for the better. By the time they left Kelly had learned to stay out of my kitchen at all times, giving me some much needed space as well as safety in the kitchen. I learned how to get her to heel without re-injuring my fragile back. I learned how to take her for rides, safely, beside me on the bike giving her the exercise she needed in a way that worked for me. I learned some indoor games to play to help her very active brain to work in turn allowing her to be calm both physically and mentally. This meant that she actually took naps during the day and didn't pester me 24/7. They showed me how to prepare her a little bit every day for the next vet visit and reduce her stress levels with both the vet and the male population of the world.

As well as helping us to train Kelly, my K9 Superheroes provide a dog/house sitting service that is beyond compare. Their service allows me to travel from time to time with my husband without any doubts or concerns at all about the dog at home.

Kelly is now a happy, healthy and very loved member of our family. She is happy and well behaved at the vet. They can't believe she is the same dog. She almost never pees in the house. The best is that I am now really enjoying having her as a part of our family and can't believe I ever considered giving her up.

Thank you K-9 Heroes, Asia, Jim and Boris"

– Deirdre Tipping & Kelly in Victoria –
AdoraBull Pit
"Before the K-9 Super Heroes came to the rescue, I thought my dog and I needed a bit of a refresher on leash manners and better behaviour around certain other dogs.

Within the first few minutes, Asia and Jim had identified multiple ways my little girl was dominating me in my own house that I wasn't even aware of – and she had been getting away with it for years because I just didn't know better! And then we got to work addressing those issues inside and outside the house. It was both a mental and physical challenge, and even Boris showed us a thing or two about some of the other dogs in the neighbourhood. But we learned and practiced the new world order – no more being bossed around by the dog! Best of all I think is the highly personalized summary of the session with additional tips to keep us on track. Having this to refer back to is awesome, and it's written with such caring and dedication it's clear that Asia and Jim are called to being dog whisperers because of their deep love for animals. I have an even closer bond with my dog because of their guidance and I can't thank them enough. AND, as if that's not enough, the amazing, customized surprise they give each client is an ultimate dog lovers keepsake to cherish forever!"

– Melissa & Maddie in Victoria –
Havanese Heaven
"K-9 Super Heroes helped us as a family of first-time dog owners. They did a solid and thorough job interviewing us initially to understand what our concerns and habits were with our dog Lucy. They carefully observed our interaction with the dog. They never rushed us and every question was answered with careful consideration. They spent time going for a walk with our dog. Everything was covered from how to properly begin the walk and how to end the walk. Within minutes we were successfully walking our dog. They even came back for a follow-up to see how we were all doing and to answer any further questions that had come up. Ultimately they left us feeling like confident, successful dog owners. Peace reigns in our house and our dog Lucy is now a most positive addition to our family. Thanks Asia, Jim & Boris!"

– Kelly, Derek, Emily & Lucy in Victoria –
Doberman Dynamics
The lovely lady breeder behind this gorgeous pack of Doberwomen and one Doberman, plus long time faithful Pitbull X, lives in an ideal setting amidst a peaceful 16-acre hobby farm in Maple Ridge. We met her one sunny afternoon while she was visiting a local Victoria park when she asked us to help her re-gain control of her house which had been taken over by eight unruly Dobies. We spent an entire weekend with the pack re-gaining ownership of the kitchen, putting new rules in place and showing her how to stop aggressive behavior when the dogs were riding in her truck, as well as how to eliminate the rush of the "Kentucky Doby" every time the pack wanted out so that she could maintain peaceful control while keeping her doors intact. We hope that she embraced some of our suggestions for putting this intelligent pack to work, by engaging their minds through disciplined ways they can help her with daily chores around the farm.

– Sadie & the Pack in Maple Ridge –
Maltese Moments
"We adopted our 7-yr old dog, Silkie, last year and instantly fell in love with her. She was very loving and playful. However, we soon discovered that she had a problem with barking at strangers and going wild whenever she saw another dog. This was very distressing for us as we had to struggle to control Silkie's barking every time we would take her for a walk or even go to answer the door. We wished for her to be calm and relaxed with strangers and other dogs, but nothing we tried seemed to work. Asia and Jim helped us tremendously with Silkie and taught us all the right tools to use with her. We were very pleased, and surprised, with how fast we saw results with Silkie's behaviour. Thanks to K-9 Super Heroes we now have a happy, relaxed dog and we are very grateful!"

– Louise & Silkie in Mill Bay –
Chi/Jack Russell Romance
"My dog, Harley used to be afraid to walk across bridges, get too close to water or even walk up and down stairs. Also, he used to drag me so fiercely when I took him out for walks that I was developing a sore shoulder and I was afraid he would pull me over or trip me on the stairs. After just one walking session with the K-9 Super Heroes team and some "homework" on my part, I'm so proud that Harley now walks perfectly at my side, doesn't rush ahead of me going up and down the stairs and doesn't drag me along on walks anymore. I wouldn't believe it when the K-9 team took Harley one morning while I was at work, and after less than one hour, quickly eliminated his bridge fears, so I asked for pictures. It was true. I have a much happier, pain-free life with my K-9 Super Hero because my dog no longer drags me down the road and I can walk him anywhere I wish with no fuss, fear or stress. Thank you a million times, K-9 Super Heroes!"

– Cyndy & Harley in Victoria –
Morkie Magic
"Jeannine and Ray were having some difficulties with their new girls. It was not fun: with the pulling on their leads; barking at everyone and at any time; taking control of one another (more Jenny over Maggie); and just dissatisfaction with the overall girls' behaviour. Asia and Jim arrived and very quickly were able to teach us the skills we needed to become the Alpha dogs in our pack. They explained to us in very easy to understand language why the girls were acting as they were. It made a lot of sense. They also provided some extensive hands on lessons with the girls and that allowed us to very quickly assimilate the information we needed and its practical application. Jim and Asia's common sense approach was spot on to the difficulties we were experiencing with the girls. Their new behaviours allowed us to better enjoy each other's company. We learned our lessons so well, in a very short period of time, that we were able to pass on some of the training techniques to Maggie's brother's owner in Parksville. She very quickly learned and was able to apply the easy lessons that Asia and Jim demonstrated to us. She is much happier with Larkin now that he is not the Alpha dog. All in all, we highly recommend the training sessions that Asia, Jim and Boris use. They are easy to follow, spot on to the specific bad behaviours and their correction, and overall a lot of fun. Cheers, and thanks again for the ability to enjoy our pets that much more."

– Ray, Jeannine and the girls (Maggie and Jenny) in Victoria –
Yorkie Yoga
"Dear Asia, Jim and Boris, You are absolutely wonderful. Although the experience was pleasant; I was totally unprepared for the amount of energy and dedication required. Asia, both you and Jim are totally professional and excel at what you do. It would not surprise me to see you with your own TV show. We, Jack and I are totally amazed with the progress made by Zoe in such a short time. With the exception of the free feeding (because I didn't feel she had eaten enough)…..we have been able to stay on course. Thank you so much for all your help and we look forward to seeing you. Regards, Opal P.S. Your website is fantastic."

– Opal, Jack & Zoe in Victoria –
Too Cute Terrier Twosome
"We originally called for some help with our younger terrier who was experiencing anxiety over a recent move. I had said that as a bonus, working with our older dog's aggression would be nice. Within 4 hours of Asia, Jim & Boris coming to our home we had dogs that no longer barked at the door bell, didn't pull on the leash and best of all our older dog was rapidly decreasing her aggression. Our younger dog's anxiety decreased over the next few days and all of it was done not with harsh corrections or a lot of struggle but with body language and just a few behavior changes for us humans. I am happy to say that a month and a half later I never worry about my older dog with other dogs and our younger dog has just about gotten rid of all her anxiety, Thanks K-9 SuperHeroes."

– Shannon, Ryan, Casey & Isabel in Victoria –
Ideal Ida
"Thank-you for helping me become the pack leader that Ida needs. She was a good dog to start with, now she is an incredible dog. She walks well on lead, stays in my unfenced yard, and comes when called. I am often complimented on what a well behaved dog I have. Thanks for making it all happen."

– Kristiane and Ida in Duncan –
Gentle Ben
"It was wonderful working with the superhero team. Ben was a very shy and insecure little pup that was showing signs of being aggressive with strangers and other dogs. With the practical help of the team, we've been able to see definite progress in Ben's reactions (and ours as well!) The tools they provided were practical and logical and equipped us to deal with Ben's behavior without feeling like we were trying to create a "robot". As he's developing his manners,the family is bonding with him more and he is a much more pleasant, happy and calm dog to be around. I would highly recommend the superhero team to any dog owner."

– Kathy and Ben in Victoria –
Foxy Everest
"Boris, Jim and Asia have been a big help in getting Everest to behave when on his leash as well as playing with other dogs. They truly are Dog Whisperers."
– Andrew, Eleanor & Everest in Victoria –
Coon Hound Meets Schnauzer
"Having recently adopted a Coon Hound/ Border Colli/Lab X Rescue Dog (Badger) and already having 'diva-like' female Miniature Schnauzer , we decided that our new 'Blended Family' had lots of negative behavior issues that we couldn't ignore! Asia, Jim and Boris (he doesn't talk much, but provides good 'doggy energy') were enormously helpful in providing useful suggestions regarding ending unwanted dog behaviors, the correct way to walk the dogs, health tips- diet and exercise, plus assisting us in getting the dogs to use our Treadmill. Asia and Jim were even involved in Badger's first Mobile Vet Visit and in their own unique way helped erase any scary, bad feelings that the dog may have had with Vet visits in the past. The dogs (and their humans) can't thank K-9 Super Heroes enough!"

– Theresa & Family and Nugget and Badger in Victoria –
Chihuahua Cha Cha
"Thank you for your report and teaching me to be a pack leader … this has worked remarkably as Drew and Sammy have responded well beyond my expectations…Drew is very calm and relaxed and our walks are very enjoyable…Sammy has followed Drew's lead and is happy just to be a dog… matter of fact they both are. I am sending you this email to cancel our follow up session for Saturday because, in fact I won't be needing another session. I want to thank you for your coaching and guidance and I want you to know that I really appreciate your help…results have been spectacular and both dogs have evolved into superheroes and have accepted me as their pack leader and respond positively. They no longer fuss around other dogs, bark at the window or door and give guests space when they enter…I simply wave my hand towards them and they retreat most often to their crate…no more fussing when I leave either…so thank you and by the way…I bought some premix from Dina and am about to make some doggie muffins…yeah!…have a great day …Klaus, Drew, Sammy, and Max (who by the way responds to my direction like the dogs….very cute)"

– Klaus, Drew, Sammy and Max the Cat in Victoria –
Bouncing Belgians
"Hi Asia & Jim, I just wanted to let you know that Tux died Friday morning. I am not sure if you remember but I had you come over to work with both my dogs (and me) to try and get Kelly to be less aggressive and authoritative over my other dog Tux. Well, your advice worked and Tux went 3 months before another bout of seizures, he usually had them every month. During those 3 months he really come out of his shell and was much more playful with Kelly, friendly with the neighbour dog, would walk past other dogs without pulling and barking as well as being much more comfortable around new people. I became more rough and tough with him and we played a lot. He was a happy boy. Unfortunately, he had the above mentioned seizures that were finally controlled with mega I/V doses of sedation. He bounced back and was back to normal within a few days. Then early Friday morning (12:30am), Kelly woke us up with her barking and when I went into the foyer I discovered Tux seizing in his vari-kennel. I took him out but he just kept seizing. My boss (the vet) came over to sedate but after just a few mls of the medication Tux stopped breathing and slipped away. It is believed that the seizures were affecting his brain stem which ultimately caused respiratory distress. Although we are stunned and sad, I just wanted to thank you for your help with my dogs. Tux's happiness and playfulness, not having to feel stressed and worried about Kelly's behavior, was priceless to me. We didn't have him for a long time but it was a good time and I am grateful to you two for your help. I have been meaning to send in a testimonial but was just wanting to see how Tux did over time and how the behavior management changes affected his numbers of seizures. Unfortunately, I was just about to write one up when all of this started. I will write one as I do want to let others know how great you two are, or you can use this as my testimonial, I think it says it all. Thanks so much and thank you for helping so many dogs!"

– Shelly, Kelly and Tux in Sooke –
Small, Medium & Large
"I just wanted to thank you again for our lesson today. You guys really are amazing with dogs. Tim and I learned so much from you guys, it's really neat to see the difference it makes in the dogs when you take control. I have put my baby gate up so the dogs can't get upstairs, and have shooed them out of the kitchen a few times, it really does work. I am so excited to have this new start with our pups, I feel we can really come together now from what you and Jim have taught us. Tim was amazed at how patient Jim was with Grizz and the fact that he didn't realize Grizz's tension starts before we even get out the door. That was a real eye opener. We have full confidence from your lesson that we can make this problem go away. You guys really are amazing and I will definitely pass your name along. Thank you so much, I look forward to our follow up, hopefully we will have better behaved pups!"

– Morgan, Tim, Grizzly, Bella and Bear in Victoria –
Vibrant Vizsla
"We are extremely happy with the service we received from Asia, Jim, and Boris. We would recommend the team to anyone who could use some assistance with a favourite canine. They came to our home and dealt with the unique circumstances we face. Jim and Asia taught us how to better set boundaries with, and communicate with, Luthor (our two year old Vizsla). We were surprised just how much time Asia and Jim spent with us. They have an obvious love of dogs, and they were at all times courteous and professional. We are seeing results already, and it has been just two weeks!"

– Leif, Laura and Luther in Victoria –
Little Buddy
"When we adopted Buddy we knew he had a problem with other dogs. But we thought he just needed to get more exposed to them. Well, a year later we finally had enough of his lunging, barking, snapping and snarling at unfamiliar dogs. He also was hard to keep under control when people came to visit us. A friend told us about the K-9Superheros and we thought that sounded just like the thing we all needed. After our fist session we had a few seemingly minor things to change and work on. And those things sent us on the right path to a relaxed dog right away. Buddy is so much better with visitors at the front door and walks are also more enjoyable. The biggest benefit is probably the ongoing support through the weekly pack walks. Buddy will need to practice being around many different dogs for quite some time and we still have to practice to respond to his behavior at the right time. After one week and one pack walk friends already noticed Buddy being a lot calmer around new dogs. Our teenage girls also greatly benefited from the dog whispering sessions and were equally involved in learning the new techniques, which boosted their confidence and further makes life easier for everybody in the family. Thank you Boris, Asia and Jim!"

– Knut, Ute & Buddy in Victoria –
Jubilant Jake
"I was at the point I was ready to give Jake away because I was so concerned about how he reacted every time someone came to the door. It was really embarrassing! Honestly, within 3 hours of Jim and Asia being here Jake was a different dog. We learned how to become the pack leader and control him. Jim and Asia even make an extra trip to help me with Jake when the mailman came. I can't say enough good about them! I think every dog owner should learn from them.

– Sharon, Mike & Jake in Victoria –
Rompin' Rollo
"My partner and I and our dog Rollo recently moved to Victoria from up north. Rollo, unused to city life and walking on a leash, was nervous and reactive around other dogs. Asia and Jim showed us how we need to behave so he could relax. After just one session the difference was very impressive – walks have become relaxing and enjoyable again – for all of us. Being able to participate in weekly pack walks will ensure that we – and Rollo – get to keep practicing what we have learned. Thanks again to both of you and see you next Sunday."

– Tim, Mary and Rollo from Whitehorse –
Thank you for taking the time to review our client testimonials. 🙂
REFERENCE Letters:
Terry Raven
Pots & Paraphernalia in Duncan, B.C.
February 19th, 2013
How do we get in these messes?
My first dog was a Chinese Shar-Pei and she was an easy dog to deal with. Unfortunately, as happens in dog world she died at 8 years of age and had to be replaced…long story short…3 more Shar-Peis later and quite a different story.
The next dog was actually two dogs…Cody and Reno…not so easy. I began learning more about the dog world and what their needs were and realized I wasn't capable of taking them out for walks as they were very dog aggressive. Weighing in at 190 lbs. between the two of them and being solid muscle I was in big trouble.
I was at my wits end, not knowing what to do and having watched Cesar Millan…The Dog Whisperer on TV, I was trying to figure out how I was ever going to get my two dogs to his centre in California…does he even take dogs in for training?…I decided to look up Dog Psychologists on the Internet and low and behold up came K-9 Super Heroes right in Victoria…only 35 miles away.
Asia and Jim came and taught me the basics of how to control these animals in the outside world…which also means control in the inside world.
The best part was that I was able to go to pack walks every Sunday and socialize my dogs. I was terrified at first and wouldn't even walk them without muzzles. I have been attending walks faithfully for several years now and my dogs are easy and I can even let them off leash on the beach!
I now have a third Shar-Pei…a rescue dog with some issues…but Jim and Asia were there when I brought him into my pack to make sure that we all got off to a good start. Bless their hearts…they even took the new guy into their bedroom with them the first night as I was exhausted from the trip home from Vancouver. I don't think they got any sleep.
Thanks to K-9 Super Heroes Dog Whispering I am able to have my three dogs and live harmoniously with them while fulfilling their needs.
I couldn't leave them with anyone prior to knowing Jim and Asia as they frightened everyone but as dog sitting is another service offering by K-9 Super Heroes, now I have the perfect house sitters and I can leave knowing they are getting the best care, their manners are being kept in check and that my house and garden are watched over as well.
I see so many dog owners struggling with out of control dogs and wish they all could reap the benefits from a visit with Jim and Asia. Perhaps now that they offer remote services via web conferencing for those not living close by, more people and dogs will be able to live much happier lives with their dogs.
I highly recommend the services of the K-9 Super Heroes Dog Whispering as they really do save the day!
Sincerely,
Terry Raven, Owner
Pots & Paraphernalia
863 Canada Avenue
Duncan, British Columbia
V9L 1V2 Canada
OPEN Monday – Saturday: 9:30 – 5:30 and Sunday: 11:00 – 4:00
Nancy & Greg Marshall and All the Gnomes
Gregory C. Marshall Naval Architect Ltd., in Victoria, B.C.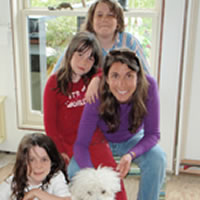 April 2012
To Whom It May Concern:
We have had the pleasure of knowing Asia and Jim for the past two years. They answered our request for some top notch dog training when we were at our wits end with our rescue dog. After teaching both of our dogs some excellent manners, they became our regular and frequent dog and house sitters.
We were extremely fortunate to have made their acquaintance, as they have been the best sitters we have ever had.
In addition to being competent and professional, they are always friendly and pleasant to deal with. They are accommodating, flexible, and very quick to respond when attempting to reach them.
Upon our returns, our home is always tidier than we left it. Most often, some upkeep has been done that we had not even thought of. There is usually even some home cooking waiting for us!
My husband and I would not hesitate to recommend Asia and Jim (and their very well behaved dog, Boris) as caretakers of anyone's home (or pet).They are extremely conscientious and very trustworthy.
We value their services and are always impressed by how they consistently go above and beyond our expectations.
Nancy and Greg Marshall
Victoria, B.C.
250.881.7582
David and Jody Adelman
Parc Modern Interiors in Victoria, B.C.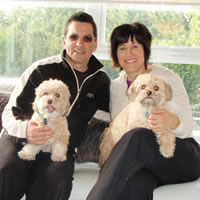 Apr. 18/2012
Dear Sir or Madam:
I am writing this letter of reference for Asia and Jim Moore.
I have known the Moore's for three years. Asia and Jim are two of the most responsible people you could ever meet.
Whenever my husband and I leave town Asia, Jim and their dog Boris move into our place to take care of our home as well as our dogs.
They take exceptional care of everything in our home and we always return home to a spotless house.
I have recommended them to other friends of ours who also have had the same experience.
They have a small quiet dog named Boris, who is always well behaved and does not shed. They are wonderful people who take pride in everything they do and in any place they stay.
Sincerely
Jody Adelman
250 589 4847
Jody | Parc Modern Interiors
jody@parcmodern.com
546 Herald Street
P.250.590.1110
F.250.590.3181
Sharlene Shore in Victoria, B.C.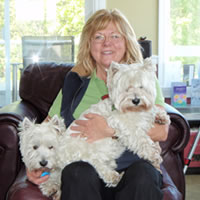 A couple of years ago I needed some help with my Westie who was three. He was attacking every puppy he saw wherever I was walking. Needless to say I was stressed to the max every time I took him out.
I called Asia and Jim and they came over and spent the afternoon going for walks with Shorty and I and talking about my life. My husband had just passed away and what I learned was I was no longer acting like I was in charge of Shorty and my late Westie Maggie.
They were here for about four hours writing notes and discussing with me what they saw as the problem. A week later they returned to see how I was doing. And again we went for a walk and they asked me questions about what I was doing instructions to Shorty differently or if I was forgetting important parts of me taking charge again and being the Alpha.
It was invaluable for me to learn that every time there is a change in the family there will be a change in our pets. It is up to us to make sure they know who is the boss. It is actually very scary for them if it is confusing and not clear who the boss is.
Asia had written everything down on paper and how I was to proceed with this problem and that if I had any further questions to call or come to the weekly Sunday dog walks for more help for free.
Shorty is now a very respectful dog most of the time. When he is not I can go back to my awesome notes and re educate myself whenever I need to.
I highly recommend K9 Superheroes to everyone I meet who might be experiencing problems with their dog's behaviours. I have learned that the dogs are smart and learn from their handlers how to act if we are not making it perfectly clear.
Asia and Jim have been a huge help to me and are always at the end of the email to help with little questions. I would not hesitate to return to see them for help and take another course if I had to.
Jessica and Travis Robertson in Victoria, B.C.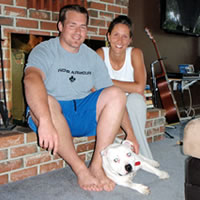 My name is Jessica Robertson, and my husband Travis, our Staffy Bull-terrier Arturo (Turo, for short) and I have been clients of Jim and Asia's for about two years now. A bit of backstory: Travis and I lived in Chile for two years, teaching at a private school.
We bought Arturo from a man in Santiago who bred him, and still had Turo's dad Mao as his own pet. Turo was about 5 months old when we got him, and was consequently quite attached to his mother. He was a bit nervous and anxious when we took him home. Add to that the fact that he had been previously bought and shipped to Argentina, but was held at the border for two weeks when the man's cheque bounced. We're not sure what happened to him there – maybe something, maybe nothing, but ever since we got him, he has been jumpy, nervous, anxious.
In many ways he behaves like a rescue. He won't sit in an open area; he must have his back to a corner so he can see the room. He is also quite wary of new people, men especially, and will bark and run, and even nip if a stranger bends over him too quickly. He's not typical of the breed, who are generally extremely friendly and very good with kids. Turo still doesn't like kids, or the noises they bring, and he often pulls on a walk if there are kids playing in the street. He's a dominant breed as well, and used to think he owned the backyard. He would bark at any noise from the neighbour's yard, and even at us if we tried to quiet him.One of the main reasons Travis called Jim and Asia was for help after he got into a fight with another dog.
I used to run with him regularly in a treed park near our house, and would always let him off leash once we got there. One day we met another woman walking two dogs, and for reasons still unknown to me, Turo and one of her dogs fought. It was awful, and I was so scared and upset by it that I stopped letting him off leash.
Jim and Asia spent four hours at our house the first day. They watched him, walked with him and listened to us. It was emotional for me to retell the story of his big fight, and so I think that what they do is as much for us as it is for the dog. Days after they left, we were emailed a ten-page document detailing all that we had told them about Turo and his issues, as well as what they suggested we work on.
We immediately started going to Sunday Pack Walk and socializing Turo with the other dogs in Jim and Asia's care. They start every Sunday with having the dogs and humans stand in a circle to get everyone used to everyone and as calm as they can be before we walk.
Both Jim and Asia are so calm in their own demeanors that it makes everyone, human and canine, calm by association. Jim is careful to instruct everyone if there is a new dog with a special need, and to structure the walk so that each dog can work with others who could best help him or her. Travis and I recommend K9 Superheroes to anyone we know with dogs – it's the best money we ever spent on Turo.
For his part, Turo is still working on the first meetings with other dogs – he is very high energy, so he often runs right in at their faces and that can escalate to growling. However, he no longer claims the backyard, and he is finely tuned to our commands. He comes out of the kitchen at one word from us, sits at the snap of a finger, and lies down with a silent lowering of the hand. He is, as Jim assured us he would be, a "push-button dog".
Because I'm sure you will get other testimonials, I don't want to speak too much about other dogs in our pack, but I have seen Jim and Asia work with other dogs and the results are amazing. We currently have two big sharpeis who, when they first came to us, could not walk un-muzzled. Now they run off leash on the beach, and come back when called.
Another huge dog was so difficult to control that Jim had to wear gloves for grip on the leash, has gone from barking, jumping and biting at everyone – human and canine alike – to being able to walk with only minor slips in his behaviour. I'm amazed at the progress he has made in a short time.
Of course, helping our dogs requires commitment on our parts, and some of our pack have made more progress than others simply because of the owners' actions. But what Jim and Asia provide is not only calm help and support for the dogs, but a safe and calm place for owners who are often stressed, worried, upset or needing a place to find help. I have told more than one new member that pack walk is GOOD for our dogs, but it's GREAT for us.
I hope this helps to give you a picture of what K9 Superheroes has done for us.