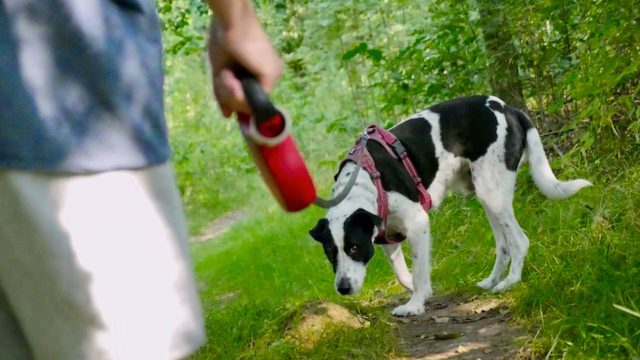 Many people are huge advocates of the cumbersome flexi, retractable, extendable, or cord leash concept and have happily laid out anywhere from $15. to $50. or more, depending on the size they required, to purchase one of these dog walking devices for their favourite canine counterpart, and why not, after all, they seem to be just the thing for a great walk, or are they?
What the flexi-leash offers is (on average) a free range of 16 to 26 feet for the fur friend so that they can get plenty of exercise sniffing about and exploring while remaining safely attached to their human. Isn't this great – or is it?
Unfortunately, while many people have been lulled into believing that they are doing a great service to their dog by purchasing one of these leads, exactly the opposite is actually true.
How can this be, you ask because this leash comes highly recommended at so many pet stores and all my friends use one.
While it's certainly true that the flexi-leash can be purchased at just about every pet store outlet known to man and dog, and yes, they appear to be enormously popular because you see a lot of them around, the fact remains that the use of these devices are causing far more harm than the perceived good they offer to the dog at the other end.
Teaches Bad Manners
For starters, a well-behaved dog must be a follower, which means that at no time during the walk should your dog be romping 20 feet ahead of you, or lagging 20 feet behind you.
The walk is the time when your dog needs to be concentrating on following its leader and this is impossible with a flexi-leash arrangement.
Teaches Your Dog Not to Listen
Secondly, every dog must be safe and listen to its leader (you) so that they don't find themselves suddenly in trouble, and this just can't happen when the dog is so far away.
When you allow your dog to reel out on the flexi-leash, he or she is no longer paying attention to the leader, but instead may be so totally engrossed in smells, sights, and sounds that they might even forget you're there at all.
Dogs can move at a speed much faster than the average human has adequate time to react.
I've seen it happen many times when a dog who is 20 feet or more in front of its owner is suddenly startled by another dog, becomes nervous or afraid and before you're able to reel them back, a fight has already broken out.
Hazardous to Humans
Thirdly, the flexi-leash is a hazard to humans, both small and tall because often they are not seen and because of this they create dangerous tripping hazards, and if you've ever been wearing shorts and run into a flexi-leash, you will know the pain of that nasty rope burn.
I know someone whose daughter was tripped by the flexi-leash, fell down the stairs, and broke her toe and this is mild compared to other more serious accidents that have been caused by these devices.
Teaches Pulling
Fourthly, putting a flexi-leash on your dog encourages the dog to pull and be in charge of the walk, which is both painful for the human as well as potentially dangerous if your dog feels that it needs to protect the follower and decides to attack another dog, person or animal.
Dangerous for Dogs
Fifthly, there are many sights and sounds outside, and when your dog is so far away you might be distracted and not notice quickly enough that he or she has just spied a squirrel crossing the road and chased it out into traffic until it's too late and your beloved best friend has just been struck by a vehicle.
False Sense of Security
Sixthly, the flexi-leash provides the human with a false sense of security that can quickly create an embarrassing situation as simply being attached to their dog becomes a substitute for not paying attention to what their dog is doing.
If you're not watching, you can be certain that most dogs will be engaging in self-rewarding behavior which can then lead to the dog teaching itself to act inappropriately in most public situations.
Leash Laws
Seventh, we have leash laws that require that we have our dogs under control, which is just not possible when the dog is already 20 feet or more in front of you.
Difficult to Hold Onto
And finally, my eighth peeve is the actual handle of the flexi-leash which is not only cumbersome to hold, but can also become a weapon in itself that has the potential to cause much harm and pain.
For instance, I was sitting on a grassy hill with my dog one summer afternoon when a couple of children came by with their little dog who was attached to a flexi-leash.
They accidentally dropped the handle which snapped back while the dog ran and I received the full weight of the handle against the side of my head.
Thank goodness it wasn't my eye and I only had a headache for the rest of the day.
So let's recap in bullet form what we've learned about the potential hazards of the flexi-leash.
it places your dog in the wrong walking position
it teaches your dog to pull and be in charge on the walk
it teaches your dog not to listen to you
it places your dog in danger of approaching dogs
it places your dog in danger of traffic
it's a tripping hazard to humans
it provides a false sense of security
it doesn't fully comply with leash laws
the handle is cumbersome and can be a weapon
Bottom line, if you truly care about the safety of yourself, your dog, and those around you, dump the flexi-leash and get yourself a simple 4 or 6-foot leash that fits comfortably in your hand, keep your dog beside you when walking, and avoid all the potentially flexible problems.
Flexi® is a registered trademark with Flexi USA INC.
– Asia – Dog Whispering for 40+ years
© K-9SuperHeroesDogWhispering.com [Since 2008]